Aussie Writer and Blogger Annabel Candy – Media Page
This is a small selection of my writing as featured in print and online.
Accolades
Successful Blogging was listed one of the Top 10 Blogs for Bloggers 2012.
Best of Copyblogger 2010 – for my viral post The Eight Habits of Highly Effective Bloggers – 250 comments, 430 Tweets and 350 Facebook shares.
Live Positively Ambassador for Coca-Cola 2010 – Included a flash trip to Shanghai for a social media conference and World Expo visit.
50 Netsetters You Should Know About
The Best Life Hacks of 2009
Discoveries
7 Raving Reasons Why You Should Build Your own Digital Career
Courage
10 Blogger Must Reads
A World of Inspiration
42 Most Popular Blog Posts About Blogging 2009
101 Awesome Travel Twitterers You Should Be Following
125 Fearless Female Bloggers
Guest Posts
Email me if you'd like a qualified web copywriter with 16 years experience to polish your blog or website copy.
Zen Habits
Low Stress Ways to Move House and Declutter Your Life
5 Ways to Travel More With Less
Problogger
1 Easy Solution to 3 Big Blogging Problems
7 Signs of an A-List Blogger in the Making
4 Classic Mistakes I Made In My First Year of Blogging [and How I Got 1000 Subscribers Anyway]
Getting Over the Blogger's 6 Month Itch
Copyblogger
The Eight Habits of Highly Effective Bloggers
4 Ways to Use Social Proof  (Before Anyone Knows Who You Are)
Personal Branding Blog
Personal Branding Lessons From Coca-Cola
Max Blog Press
Why Bloggers Rule the World
Steve Aitchinson
Learn How to Love Yourself
Illuminated Mind
How to Stop Being a Perfectionist
Expat Women
5 Steps to Planning a Successful Blog
Procrastinating Writers
3 Roadblocks to Success
Think Simple Now
The Ultimate Guide to Personal Motivation
Dumb Little Man
How To Never Get Into Financial Difficulties
Life Hack
10 Ways Blogging Can Improve Your Life
7 Steps For Making a New Year's Resolution and Keeping It
How To Have A Chilled Out Holiday Season
Write to Done
Motivation Tips that Work: 6 Sure-Fire Ways To Get Writing and Keep Writing
Regularly Featured on
BlogHer (I'm a syndicated writer)
Brazen Careerist
The Daily Brainstorm
Interviews
Email me to arrange an interview. Topics include blogging, social media marketing, internet marketing, travel and writing.
Vagabonding
Every Day Bright
Namely Marly
From Bottom Up (Podcast)
Find All Answers
Ross Hudgens
Blogcast FM (Podcast)
The Clickstarter
We Blog Better
Australian Businesswomen's Network (Podcast)
The Creative Penn (Video)
Radio Coverage
In Print
Need a soundbite or expert quote on blogging, social media or Internet marketing? I'd love to help.
The Journal: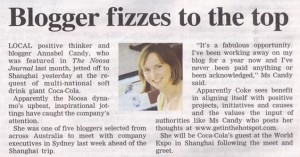 The Sunshine Coast Daily: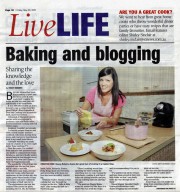 The Weekender: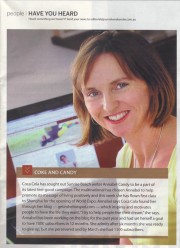 The Sunday Telegraph:

Speaking Engagements
I speak and give workshops to business and writing groups. Please contact me if you'd like me to talk to your group about blogging, blog marketing or writing for the Internet. I'm a member of Toastmasters and a qualified and experienced teacher.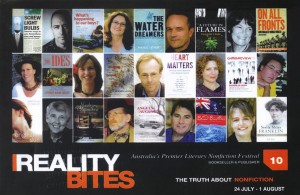 Book Reviews
"The checklist that ends each chapter ties together the goal, learnings and actions so you can easily identify what you've learned, and anything you need to research further. Annabel's skills in web design and copywriting give this ebook a richness that others lack."
"It's a great mix of creative and technical advice, all of it very accessible and practical."
"Successful Blogging in 12 Simple Steps offers beginner bloggers a hype-free and practical guide on starting and growing a successful blog and audience, in an easy to understand, jargon-free self-study course."
"This is the type of book that I'm going to read more than once. It provides an overview of everything I need to know to become a successful blogger in easy to read tidbits that I can use as a resource now and again."
"Where was this e-book three years ago when I started blogging? When I started blogging I literally dove straight in and that works… up to a point!!! But after reading this book I see that there are a lot of little tweaks that I can perform and changes here and there that would make my blog a better blog."
"I would buy this book just for the bonus chapter on Committing to blogging and staying motivated."
"The course is divided into 12 easy steps to take you from blogging ingénue to blogging brilliance. I think the best thing about Annabel's course is the simplicity. It's so easy to get caught up on a lot of complicated technical stuff on the internet, but Annabel makes it much easier to understand and therefore it's much easier for you to get results."
"If you're a small business blogger, a solo-preneur, a freelancer trying to build your business online, this book is just for you. It's a step-by-step guide for building your blog, generating purposeful content, and engaging your readers to generate business. Each chapter is riddled with How To's, Action Steps and Check-Lists to make sure that you're doing everything right."
"Notice how I mentioned experienced bloggers? That's because I think we can gain something from this blog too. I don't know about anyone else, but when I started my first blog, I didn't know enough about blogging to approach it in a systematic way. I know a lot more now, but it will be interesting to use Annabel's lists to check my progress when I start my next blog.

Finally, all bloggers can benefit from Annabel's tips on using guest blogging to promote their blogs and the extensive list of tools and resources at the end. To add to the value, there's a great list of tools and resources at the end."
Please email your media requests to [email protected]